"Imagination is an Instrument of Survival"
(1 2 3 4 5 6 7 8)
About Pragmatic Multitudism by Christina Ulke

I encountered Peter Fend's thoughts about art making last October 2002 in the Pasadena City College Art Gallery's storage closet. Peter's statements about the conditions of art production are broken into thematic sound bites. See the mp3 Files running alongside this article.
The storage closet interview took place after a panel discussion which accompanied Flow Lines, an exhibition curated by Claude Willey at the Pasadena City College. The exhibition included artworks by Peter Fend and Lane Barden. Presented were ideas on reconceptualizing public water issues and rethinking terrain boundaries according to global water sheds.
Intrigued by Peter's call for a pragmatic art practice, I startet to "collect" art projects that show what could be, rather than represent what is.
Pragmatism, as Sylvère Lotringer puts it, is like planting. You are not just criticizing things, you create what is supposed to be.
Appendices 1-7 represent a subjective selection of projects, the selection is reflective of my own social network. More project links will follow.
Out of my desire to manifest a movement – two words: Pragmatic Multitudism - multitudism because the multitude contains the possibility of becoming and pragmatic because the galaxy is made of matter.
- Christina Ulke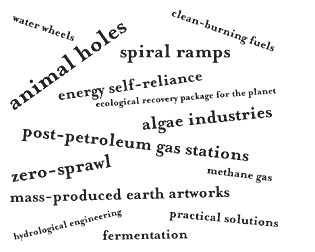 Everyone knows that something must be done within the next 50 years. The question is: Who will do it? Where will it happen? And how soon can it happen? We the artists, who are in the 'advance' guard, the avantgarde, we can push this forward much faster than might happen with the present Powers that Be. I don't think that Dick Cheney, George Bush, or Donald Rumsfeld or even the people at Shell and BP, are going to push forward, even though the rise in temperature, the war danger, and the basic human need for new energy demands forward action now.

- Peter Fend