Arlington West
1. Your name, names of collaborators or collective name (aliases are fine).
Veterans For Peace, Los Angeles Chapter 7
Veterans For Peace, Santa Barbara Chapter 54

2. Name of activity, campaign, project etc…
Arlington West Memorial at Santa Monica
3. Is this activity affiliated with any other groups?
Iraq Veterans Against the War (IVAW), Service Women's Action Network (SWAN), Military Families Speak Out (MFSO), Vet's Stage and others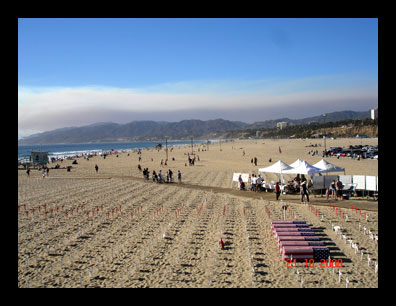 4. Dates of activity (month, year, duration, is it ongoing?).
Arlington West at Santa Monica started on: Feb 15th, 2004. Project is ongoing.
Arlington West at Santa Barbara started Nov 2003. Project is ongoing.
5. Location(s) of activity (city, street, store, gallery, web site, be specific).
Santa Monica, CA (north side of Santa Monica Pier) and in Santa Barbara, CA at Sterns Wharf.

6. Type of activity (please attempt to classify the tactic).
War Memorial

7. Target and goal of activity.
To educate the public about the human cost of war through a visual representation in such a way that will evoke reflection and grief. Also to be a catalyst for inner dialog about the human cost of war, and of the trajectory of the United States on its use of institutionalized military violence.

8. Please describe the activity in a paragraph.
Every Sunday, from sunrise to sunset a temporary memorial is created in the sands on the beaches of California. The Arlington West Memorial at Santa Monica is located just north of the world famous Santa Monica Pier. This memorial honors and recognizes those we've lost and the loved ones they've left behind. We attempt to shed light on the human catastrophe of war as an instrument of national policy. In this way, those on the receiving end of U.S. policies are given equal recognition, as we believe we are not worth more, they are not worth less. The Arlington West Memorial offers visitors a graceful, visually and emotionally powerful, place for reflection.
The Arlington West Mission Statement is:
To honor the fallen and the wounded

To provide a place to grieve

To acknowledge the human cost of war

To encourage dialogue among people with varied points of view

To educate the public about the needs of those returning from war
9. What was the outcome of activity?
Education, awareness, and an opportunity for collective grief.
10. What did you learn from this activity?
In its setting on the beach, I have learned of the power and beauty of this memorial. Within it are elements of poetry, enticing us to reflect, to embrace life, and to shed old paradigms in the way we have long viewed our country.
11. What influenced the decisions you made in creating this activity? (be specific)
The primary influence in our decision to create, develop and maintain this memorial, was the fact that the current US administration (Bush et al) has strictly enforced the ban on photographs of those who return from war in coffins or are mentally and physically maimed for life. Our country is engaged in spending billions on weapons systems and in the maintenance of the implements of war – including weapons of mass destruction – and should be held accountable for its actions. In a well functioning democracy, it is crucial that what our country does abroad in our name not be hidden from public scrutiny.

12. How do you measure success for this activity?
Success is measured in the very tangible grief and sadness expressed by those who have visited or stumbled upon the memorial by chance. Many comment about their feelings about war and the path our country has embarked upon in its foreign and domestic policies.
13. In order to continue and be successful with this or other related activities, what would you do or need? (Be specific: is it a question of tools, more people, concepts, lock boxes, training, cultural change.)

Volunteers run the project of Arlington West and are essential to its continuity. Tools such as carts that have sand wheels (balloon type wheels) designed specifically for mobility on sand are required to maneuver heavy or bulky items; such as wall displays, photo boards and the many containers of personal dedications and other mementos by loved ones and friends of the fallen.
We need volunteers to help set up and take down the memorial, in the maintenance of the memorial, and in interacting with the public, maintaining a non-confrontational and respectful manner when doing so. We experience many varied points of view at the memorial and we're not there to bash anyone over the head for being pro-war. Our purpose is to shed light – and perhaps just a little bit of wisdom - on our evolving existence on this very tiny planet.