Monument to Relational Aesthetics

January 24 - April 18, 2010
Action, Conversations, and Intersections an exhibition of participatory projects
Los Angeles Municipal Art Gallery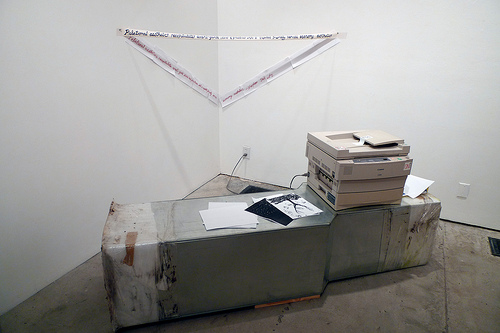 Instalation View- functional photocopy machine, metal duct-as-podium which was machined for our instalation at
the 2008 California Biennial, wall text.
The Journal contributed this sculpture which included a fully functional copy machine to be used by visitors to the exhibition. The show was about participatory artworks and collectives in Southern Californial.

Text on wall behind copy machine reads:
"Relational aesthetics recapitulates avant-garde ideas and practices into a capital-friendly, service economy aesthetics."

This is a quote from Stevphen Shukaitis and Erica Biddle's article, Never Art, Work! from the Issue 7 of the Journal of Aesthetics and Protest.