Move! Activate! Remember

May 18th and 19th 2007
Southern Exposure, San Francisco
A weekend full of readings and actions conceptualized around the remembering and
re-enacting history.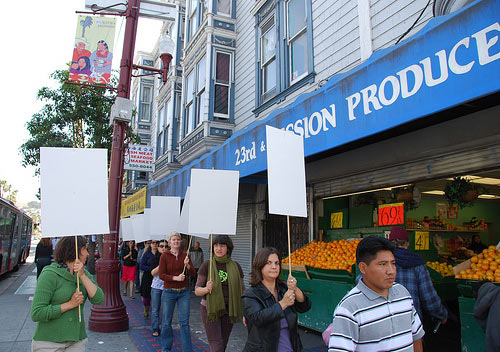 Friday May 18 2007
-7:00 PM
Readings from:
issue 5 of the Journal
Failure! (published by the Journal Press)
Saturday May 19 2007
2:00 – 4:00 PM
Fragments from a strike: Reconstituting the San Francisco State University Walkout:
a Participatory Re-Speaking Workshop organized by BLW who wrote this article from issue 5.

3:30- 4:30 PM
Automobile Event and Blank Placard Dance, Reenactments.
Anna Halprin re-enactments
Choreographed by the Journal Editors






click on images for Steve Rhode's Flikr Photostream

4:45-5:05 PM
Art Workers' Coalition (revisited)
In dialog with Kirsten Forkert's Issue 5 article.
Choreographed by the Journal Editors


click on image for Steve Rhode's Flikr photostream

5:15 PM
Coffee Shop Organizing Project
Choreographed by the Journal Editors
For this part of Move! Activate! Remember!, exhibition participants were put in pairs of two and
walked ot a local coffee shop. While sitting at seperate tables, everyone was treated to a cup of coffee. Then each pair was to discuss what they could do right then and there to stop the war in
Vietnam and then to do it. One group yelled at a streetcorner. Another group banged their shoes
at a hospital while also yelling about the urgent need for healthcare reform.

7:00 PM
Remembering Forward;
Bumping Into Yesterday's Mistakes Tomorrow.

Panel discussion with:
Josh Kahn Russell (activist with SDS),
Sam Green (film maker- The Weather Underground),
Patrick Reinsborough (activist with smartmeme.org),
BLW (artists collective- on BLW)
moderated by the Journal Editorial Collective.
Photo of the placard dance. View more larger event photos here.