IssuesArt ProjectsCritical ConversationsLecturesJournal PressContactHome



issue guide
#10 intro
Key
Points of interest
Essays
2 non-maps
Masthead

Introduction/Editorial:



A non-Cartography of Power

issue 10, Journal of Aesthetics & Protest, Autumn 2017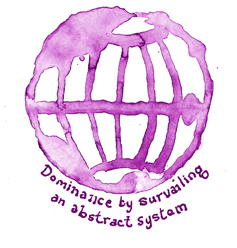 "Well Gentleman, isn't it time again we get started" It's Sessions again, always the one ready to bang the gavel.
We merge around the table, moving around it like a parthenon or large rock. I put down my glass as I find a seat. "Where we're going, we don't need no stinkin' maps," a smart comment from the stupid guy with glasses. Why is it that I always end up sitting next to the dumb ones? Its 3.30 pm and I'm proudly on my fourth bourbon; the way I like it, on the rocks. I like being drunk in this crowd of losers. I feign to look at my reflection on the cubes of slowly melting ice, then savor a sip as the bite of the drink cuts through the pep squad laughter in the room. I can't deal with this group-think bullshit.
"The law is the law, gentleman, and in this case there is none…" Now that we've found our seats, Sessions is really getting started, knocking a bunch of documents out of his manila folder, "…and so therefore we will have neither done anything wrong, nor has POTUS abnegated any treaty." Justice now sits down at the table and positions his chair. Nervous as always, he massages the end of the armrest "This blessed chair," he curses while running his right finger over its inside carved wooden art. He continues, "…so there is truly nothing for us to worry about from California or the Chinese."
Not wanting to acknowledge that this was my worry in the first place but needing to acknowledge it, I look up from my glass and quickly nod in agreement, but quickly tuck my head down before Stupid catches me. Stupid wasn't as clear as those of us who knew to ditch it. "The regulatory object is so dull it won't cut hot butter and so its handy as sliced bread. Its toothless, and keeps an easy relation between the administration and the Companies…" he argued last week. I never give a damn about what he thinks of me, I just don't want him to think I batted an eye over China, or Germany, or the Banks for that matter. I clear my throat ready to speak, but just like that, Stupid chimes up, "I'll have my boys at Livermore put out a statement about carbon sequestration and calm those nervous nellies."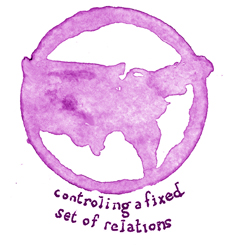 Quickly annoyed by his taking us off track, I trace my fingers around the damp sides of my tumbler, puddling moisture at its base. All the clowns in the room are beginning to bray, "Sounds like a good strategy. I'll get my team to draft a performance plan and game out media response." I lift up my glass and notice the complete circle of water that's been left on the table. Ignoring the political teams' horse-shit, I'm drawn into the cup's moisture; so with my other elbow on the table, I raise the glass raise with that hand and draw a few horizontal and verticals, making an orthogonal globe from the condensation. Nope, this doesn't make any sense. I gently place the glass down again, not wanting yet to draw attention to myself. I imagine there'll be an approximate map of the USA filling up the trailing liquid when I lift the glass again. But no luck, just a pool of condensation loosely hugging the circumference with other water droplets set wherever, within. I've got it now.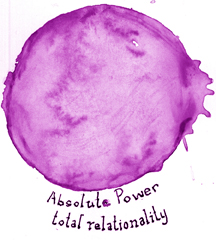 "Enough of this heehaw." I play it a little country to stop the hicks in the room. "I think most of you are misinterpreting what Justice has said." I lift an eye to Sessions, who gives me his elfish wink. He likes where I'm going. "POTUS can do what he wants here, and I think we all agree…" I give Stupid a sharp quick glance, "I think we all agree that even hinting that there is something to regulate here– that there is even a problem, goes against national interests. As long as Justice has signaled, as he has, that there are no competing interests; its best to ditch this regulatory farce in order to pursue the full development of our gas and oil sector. Our friends have shown that they're ready to deal with the profits of such an effort– this is the only ethical question we should have on our table right now– do we want to be strong or not. The multinationals will scream and shout about the globe, but fuck 'em and their leveraged interests. An activist POTUS like ours can do what he wants to do."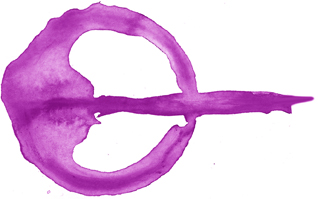 I dab my finger again into the straight line I have unconsciously drawn from the condensation. On one side I place their interests. On the other side I place our desires and our capacity to achieve them. I get up, not interested in how the hicks respond. I make for the door and the hallway beyond to look for another glass of bourbon. One of the staff is waiting for me, bottle in hand, as he should be.
---
Using the responses to our open-call climate art submission, this 10th issue of the Journal of Aesthetics & Protest began with the intentions of cartographically mapping the ecology set between formal staged and material interests (tectonics), the relational flow of materials and ideas these interests set in motion (humors), and the ideals which orient them all (totems).
After much reflection, we've decided to ditch such objectifications of knowledge and instead insist upon the non-cartographic nature of being in the world. Life exceeds itself. In organizing a project in general response to the total relations of climate change, there are no particularly oriented relations to map, only particularly situated points of being.
Thought is everywhere and in every way, but particularly, and this Climate Issue begs to understand this. Our initial curatorial ordering of aesthetic representations suggests that by abstraction alone an audience is capable of understanding the world- and by understanding, they are capable of moving it or having it moved.
It is high time that activist and artistic knowledge recognize that composition is ideationally contingent to itself, that knowledge sets are translatable not only by what they describe, but also by what they ultimately intend.
Our non-cartography intends to suggests that everything can be arranged and rearranged intentionally, by very particular ends (totems) through universal means (humors). Our non-cartography runs squarely against the notion that there are universally equivalent means (humors) ultimately working us all to a clear (universal) end. Taking ultimate inspiration from Luce Irigaray, Silvia Wynter and Denise Ferreira da Silva, we have rather decided to first let this card fall away, and then try to think through another way than this totalizing cartography that lies by eclipsing everything in the facade of one way of knowing.
Next- Our non-Atlas' key <link>