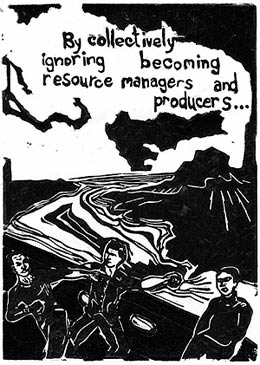 Flash! Like Gossip!Art and the Culture of Dry Goods Language
by Marc Herbst
I remember the joke I told myself- that cooperatives were the most radical thing since Martin Luther King JR's birthday became a national holiday. Amid some now forgotten epiphany, I found The Food Coop Handbook (Yohalem, Heins, Coughlan,Tumlin, 1975) at the LA Public Library. I'd biked down there. This library find was like a telephone book back in time, I began interviewing the all members of the local Food Conspiracy"I could find.
The Echo Park/Silverlake Food Conspiracy Coop (one of 3 food cooperatives existing in my 90026 area code through to the early 80's) was the creation of determined cultural workers. The members happened to notice that if they went to the Downtown Wholesale Market to chat with the sellers about politics, they could cut deals on melons, walnuts, rice, arugula. Members knew they were changing produce and money and sending counter-culture attitudes down Elysian Heights to central market; up into truck's cabs and out to California's vast agricultural hinterlands; the wood-framed-homes and fields of the sympathetic farmers, farm-workers and wholesalers.
""I'd thrill to see what items we would get, we ate cheaper and better then non-coop members. The finest cheeses…the freshest meats. But if you think we thought we could, with our little coop, compete with the supermarkets, let me tell you, It Was A Front!!! A front! It was something to do, it gave us hope, a place to socialize with people every week. It was a front the way the Black Panthers had their breakfast program! We wanted to change the overall food policies of the country!""Said the members,"My lifelong friends come from this period.""
LA's Food Conspiracy members were borne hustlers from the Berkeley Free Speech Movement and operated in the ferment of the Feminist Movement. Today, thirty years latter in this same town, it seems counterintuitive that the seeds of a different society are in items provided within capitalism.
Alan Sekula's outstanding photographic essay Fish Story documents how market rationalism comes to dominate both international shipping and LA's Harbor Area culture. It is a bit ironic then that artworks like Fish Story can be read as both powerful indictments of monopoly global capitalism and as corporate training manuals on downsizing. Unlike the coop, work like Fish Story doesn't function outside global capitalism. It reports a capitalism angry at its own excesses, willingly telling the problems it is thinking hard about. Its emotions may be nuanced and cumulative but are inevitably sold down river as tragedy.

Revolution's social movements feel electric at the tip of a paintbrush, the strings of a guitar. Meditative, reflective and critical fine arts (such as Fish Story), the explosive punk/hippy aesthetic- they feel like two poles of revolution, not some clerk lifting heavy shipping pallets. Aesthetic action flashes as production when capitalism supplies the powder. Strangely though, social change isn't only about blowing ideology; it realizes itself over time in systems that meet people's real needs. Remember, a healthy partner to spitting rage is loving creation.
It is an irreducible fact that for any being's survival, it must systematize the gathering and distribution of nutritional resources. Monopoly capitalism, fulfilling its unique logic, sets upon dominating all resource networks including our imagination.
Dissident Soviet farms, Digger Free Stores, biospheres, even artist-run-spaces of today- radical because of their people's nominal independence to feed themselves. Context provides space to create trusting relationships outside of capitalism's oppressive hegemonies. Clear points of cultural difference solidly grow on alternative resources and networks.
When we make monopolistic capitalism our only reference point, food appears a tool of capitalist domination. Elements of progressive culture (in academic and art and political worlds) poisoned by this logic seek remedy in easily decodable critique, and as such, suck on affective placebos. By collectively ignoring the possibility of being resource producers and managers in the process of becoming content providers of an international culture market, radicals have lost their ability to create radical networks. Collectively ignoring our own potential resources, we don't grow- we become a niche market. By collectively ignoring our own resource bases we give up experiencing our own uniquely possible meanings.
Though the Echo Park/Silverlake Coop no longer exists, the two local storefronts overseen by two former members were easy to find. The members happily shared memories like gossip; their stories represent people tied to each other in personal and political growth.
At this moment within America, corporate capitalism and its cultural forms triumph because it continues allowing us to imagine whatever we want while it begrudgingly supplies. American corporate capitalism is triumphant because it best fits all dominant moral and linguistic structures and business policy of the day.
It's a good idea then that we build some other structures and imagine that our beloved is making a difference. Atop the sandy soil grows a vine on whose end is a watermelon.