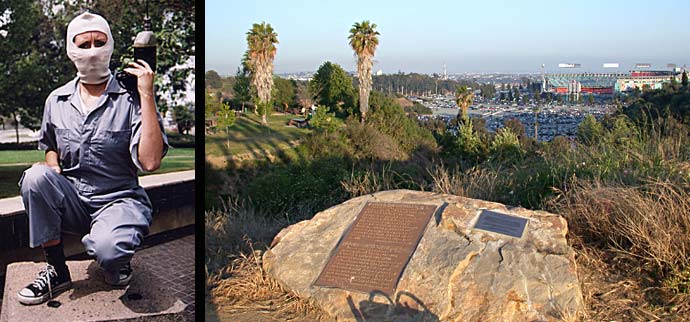 The Pocho Research Society: Operation Invisible Monument
Los Angeles is rich and fertile terrain for the investigation of bulldozed and forgotten stories.
In Operation Invisible Monument, the Pocho Research Society (PRS) takes on the construction of history through the public monument. Anonymous PRS members inserted mock historic plaques at four locations in Los Angeles. These monuments entitled Tropical America, El Otro Ellis, The Displacement of the Displaced and The Triumph of the Tagger, commemorate moments in Los Angeles'History that have not been officially recognized.
In the first of several actions, the PRS strategically selected sites to pay homage to historic erasure. By inserting plaques, the PRS hopes to interrupt historical amnesia, trigger memory and interrogate the present in order to see the world with fresh eyes, rather than the diesel haze of a media-blurred present. Public monuments are important sites for the projection and erection of hegemonic constructs. They often monumentalize a heroic, progressive and militaristic version of history thereby denying density and
complexity.
The Pocho Research Society is a collective of artists, activists and rasquache historians who reside in Los Angeles. Dedicated to the systematic investigation of space, memory and displacement, the PRS understands history as a battleground of the present, a location where hidden and forgotten selves hijack and disrupt the oppression of our moment.