Community Centering
by Damon Rich
If the idea of community-based artwork is held as an unexamined good, the politics that define the word"community"are hidden. Instead of using a vague notion of community to validate vanguard cultural practice, what if art projects could be used to dramatize the very mechanics of community, and open its political workings to reconsiderations and repurposings by a variety of actors?
In a democratic city, decisions are justified with reference to a particular community; the decision that is made is tied to the legitimization of that community. In 1999, I was working in the Capital Projects division of the New York City Parks Department. A municipal mental hospital had been condemned; the question was, what should be done with the land? Located on a bony Atlantic isthmus called Far Rockaway, the surrounding area was an economic and architectural layer-cake–alternating, in bands sometimes only two blocks wide, public housing, parkland, and multimillion dollar houses. The mental hospital had been built on a seam between two of these bands: the wealthy neighborhood of Neponsit and the state-owned beach of Jacob Riis Park. Riis is the closest beach to the mostly low-income and nonwhite neighborhoods of Southern Queens and East Brooklyn; on hot weekends it is packed with low-income and nonwhite beachgoers. A fence marks where the Neponsit beach ends and the State beach begins, like a mini-Berlin wall. Like the 19th-century debates over whether new states would be slave or free, the choices for the former hospital site were clear: it had to join one side or the other.
The Queens Borough President convened a meeting of public agencies and elected officials to discuss the next steps. The Mayor had previously decided that the land would be given to the Parks Department, so the meeting focused on the kinds of uses that would be designed into the park. The operative distinction was between passive and active recreation, between footpaths and basketball courts. Here, a whole range of references to class and race were coded into the jargon of landscape architecture; the physical design was justified with reference to an implied community. The speakers from higher levels of government–state officials, the 23-year-old from the senator's office–spoke of the community's need for active recreation, of the inadequate and overrun facilities at Riis Park. Since these officials represented a large chunk of city–beachfront homeowners only a small portion thereof–their loyalties could rest with the overheated and under-recreated Riis-goers. However, after sharing their two cents, most had to immediately leave for their next meeting with other constituencies.
Eventually, when there were only a few of us left at the table, the president of the Neponsit homeowners association spoke up. He informed us that the community was not only against basketball courts, but would only favor the most passive uses imaginable for the new park, perhaps an"ecology area."The community board district manager agreed:"There's not going to be one bench in this park."Their implication was clear-- they would not stand for the new park to become a hang-out spot, even less a basketball-playing incursion of Riis into Neponsit. Instead, it would serve as a buffer, a more subtle extension of the beachfront fence that currently kept the two zones distinct. As a young bureaucrat, I was unclear about why the meeting produced this result. Later, after hearing the phrase all politics is local for about the hundredth time, I understood that such miniscule projects (12 acres in a far-flung corner of New York City) rarely receive much attention from public officials who might normally fight such a xenophobic proposal. The fact that these officials have a large constituency, which makes it their job to think in terms of addressing large-scale inequalities, is the same thing that makes it near impossible for them to address such inequalities in the fine grain of piecemeal urban development.
This story is not about a failure of the system; it is about business as usual. In such a setting, the shifting reference of the term community is taken for granted, as is the way that different physical proposals designate different imagined users. The winners need not challenge these terms to have their way built into the landscape. The discursive negotiation of community has begun its transformation into built forms and administrative protocols. The fact that the Far Rockaway development has a claim to be community-sponsored is not an unequivocal indication of its success.
As a citizen, this was a sobering and humbling lesson about the nature of public reason. Surely the just and rule-based God of Planning would not have designated this spot of earth for the ruminating walks of rich people who already had front and back yards. As a designer, seeing landscape architecture operate as a coded instrument of race and class division made me want to find ways to expose and intervene in this process. Instead of design being used to hardwire and then obfuscate power relations, how could it be used to make them visible and democratize them?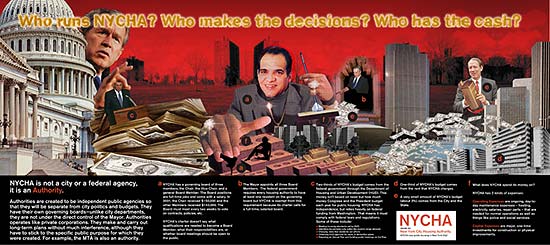 Working with a nonprofit art and architecture organization called The Center for Urban Pedagogy (CUP), I have had the chance, on a small scale, to try to do just that. In making a series of public education projects on urban issues (city planning, waste management, public housing, building regulation), my co-workers and I often return to a technique we call Points of Interest. We intend this title to question a standard view of place–interesting points scattered across a landscape of disinterest–with a process-based, politicized notion of place–formed by and formative of politically-interested communities. The most current version of the technique involves conducting video interviews with a wide variety of stakeholders connected to the issue at hand. For example, for a recent project on public housing, we interviewed 23"public housing professionals"including community organizers, architects, elected officials, property managers, historians, urban planners, public interest lawyers, and more. In these interviews we focus not only on the facts, but also on the belief system of the subjects–how they construe their relationship to the public and to the others in the community of stakeholders, how they justify what they do within a larger ethical framework.
These interviews are then used in a variety of applications. In the high school or college classroom, they are useful for helping students to get a grasp on the issues and how different people from different backgrounds frame them. In documentaries, they can be put to use for general public information as well as for the specific goals of CUP's partnering organizations. Finally, in gallery installations, the formal juxtaposition of interviews and other documents can allow viewers to glimpse the lineages and vectors that a word like community often hides from view.