Séance in the Dark Theater: Further Notes on the Death of Camp
by Malik Gaines and Alex Segade
Jack Smith hated good PERFS.
"Good acting"changes. (In Medieval passion plays, the actors were actually directed to beat their breasts whenever the word"Paradise"was declared). But it is always limited by epochal taste and convention. As Smith wrote (inThe Perfect Filmic Appositeness of Maria Montez, 1962):
"You can have…GOOD PERFS that give you no magic–oh I guess
a sort of magic, a magic of sustained efficient operation (like the
wonder that the car motor held out so well after a trip)."
Only a bad actor can turn"plaster cornball sets to beauty."Smith's"magic"shines out of the gap between the real and the imagined, with the inner eye of the performer privileged over the verisimilitude of the mise-en-scéne.
One must agree with Aristotle that imitation is the basis of the theatrical form. Performance is always a simulation of something else. These days, it's more likely a simulation several times removed from some authentic simulation.
Brecht writes of his Alienation Effect:
"When reading his part the actor's attitude should be one of a man
who is astounded and contradicts."(Short Description of a New
Technique of Acting which Produces an Alienation Effect, 1933.)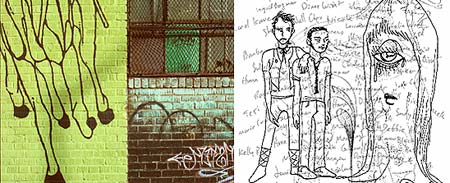 The Alienation Effect requires the actor to judge the words uttered by the character being played. It is a critical process imposed upon the performer, different from, say, The Method in that it does not ask for emotional honesty so much as intellectual prowess. In this way, the A-effect is related to the Camp Aesthetic in its admission of an unreality into the sphere of the stage or screen, which, even in its most meretricious productions, seeks to create an illusion of life.
In Brecht's learning-playHe Who Says Yes / He Who Says No, the actor must utter ultra-didactic dialog in telling the story of a town engulfed in an epidemic leading to the death of a boy who is trying to get medicine for his mother. At the climactic moment, he refuses when asked if he is willing to sacrifice himself for the good of the group:
THE BOY: The answer I gave was wrong but your question was more wrong. He who says A needs not necessarily say B. He may realize that A was wrong…As for the old Great Custom, I see no rhyme or reason in it. What I need is a new Great Custom to be introduced at once, to wit, the Custom of rethinking every new situation.
This kind of dialogue engenders the Alienation Effect by giving the actors lines they can't say without entering a lecturing, teacherly didacticism,"A word of which I, as a man of many years of experience in the theater, am not afraid"(Brecht,The German Drama: Pre Hitler). The fact that the boy approaches his death with seeming rationality requires the performer to distance himself from the situation, to present it as if it were an idea, because that's what it is.
Which is why non-actors are so good at this kind of performance–they are alienated from acting in the first place. Brecht's fascination with amateur players is explored inTwo Essays on Unprofessional Acting and Notes on the Folk Play, which discuss various un-bourgeois theatrical traditions (such as the amateur theater of Sweden and the German Volksstück) and their attendant"impoverished"economies and aesthetics, from which"simple truth emerges."The simplest truth being that they are acting.
Also, see Smith, Warhol and Waters: while the ends are different, the means and effects are similar. The"Flaming Creatures,"the entire Factory constellation, and the mutants of Dreamland all demand of the audience an acceptance of their unpolished performances, even as these performances seem to admit their playing. The viewer is seduced not by Smith/Warhol/Waters'command of the medium but by their audacity at subjecting the world to their exhibitionist casts. The Cockettes put this aggressive and decadent amateurism into a theatrical context. In the Cockettes'performances, the orgiastic replaces the didactic.
Brecht's objective was political in that he wanted his theater to stimulate an interrogation of its depicted structures, especially the economic ones. Today, Brecht's critical techniques have been transformed into an array of stylizations, from the milquetoast satire of the singingCapital Stepsto the Broadway splashUrinetown(which portrays a funny fascism only to suggest the alternatives are worse), to the Queen Latifah vehicleChicago, and far beyond.
Hanna Schygulla in Fassbinder'sThe Marriage of Maria Braun(1979) seems to embody the"astounded and contradicts"mode. The scene in which she kills her lover in front of her husband comes to mind. Maria just looks up at her mann when he walks into the room. She thought he'd been killed in the war, but it's him standing there looking at her and her naked black lover. Schygulla seems to step out of the scene at this point, almost unable to carry out her outrageous actions. When she drops the bottle over her lover's head, killing him, she is doing so because of an obligation to the script. Schygulla plays it shocked into sullenness, contradictory.
Then there's Teri Garr as Inga in Young Frankenstein (1974).
TERI: Roll, roll, roll in da hay.
Enter Camp, with"grand operatic gesture"(as Charles Ludlam's stage directions read inGalas, 1982, his homage to Maria Callas).
In 1964, Susan Sontag wroteNotes on Camp, warning that, unlike Brechtian modalities, Camp is not an idea but"a sensibility that…converts the serious into the frivolous."
JOAN: You wouldn't be able to do these awful things to me if I weren't still in this chair.
BETTE: But you ARE, Blanche. You ARE in that chair.
(Whatever Happened to Baby Jane?, 1962)
Sontag describes Camp from her 1960's vantage, referring to opera and dusty trunks full of ladies'dresses from the 1920's. Since then, Camp has penetrated television (seeDynasty) and has blown its load beneath queer-positivity. The residue has seeped into the ground water of irony-tinged production. Camp is diluted and thereby destroyed. Still it is instructive to consider Camp as a concept and Campy things as a reality; the adjective form continues to moderate. It's much like the avant-garde; what artist can honestly claim to participate in this pure, 20th Century tradition? The adjective blooms eternal, though, as in"what an avant-garde blouse,"suggesting asymmetry and other uncomfortable incongruities of form and expectation. Avant-garde practices once produced critique, now they produce style. This could be said of Camp as well. Style is set decorator for the illusion of life.
Campiness is not interested in life, nor in death, really. Camp's historical interest has been resurrection.
The undead.
Its theater and cinema is ghostly.
Realism or Naturalism (all terms used in various capacities to describe an artistic style that"began"in the 19th Century, peaked in the 1970's, - the 80's being its decadent high point - and has been eroding in spurts and stutters ever since) has the unintended side effect of pointing out the differences between the real and the representations thereof. Realism is Campy too.
Hence, Meryl Streep's Brecht-free assumptions of personae as divergent as Sophie or Mrs. Kramer or Isak Dinesen orA Dingo Ate My Baby, believable within their contexts, appear calculated, counterfeit, insincere when the reality sets in that she is an actress whose bizarre accents are not the way she speaks, whose hair styles are wigs….
Thus, Camp is potentially the true Realism, if we pursue the Brechtian idea that the performer's admission of artifice allows the audience to be self-aware of its presence within the theater, before a stage or screen.
This position, post-William Castle, post-Fluxus, post-Rocky Horror, is very easy for the audience to take.
Audience participation is still a bit annoying for people (Who wants to be put on the spot?), but they don't mind so much if the actor knows that they know that we know that we all know that this is a performance, a stage, a fake story, with made up characters, that the car is not real or, if it is a real car, it's not actually being driven for the same reason its pretending to be driven.
In that way, Camp uses Naturalism to become a Truism.
When people say,"It's very theatrical,"they are not thinking of Harold Pinter, whose theater is repressed, underplayed and tight-assed."Theatrical"means exaggerated, over-enunciated, elaborately constructed, made-up in every sense.
"Lying, the telling of beautiful untrue things, is the proper aim of art."(Oscar Wilde,The Decay of Lying, 1889)
Wilde succeeds in making the idea of Realism seem very unappealing when compared to his jewel-encrusted, epigrammatic Sphinxes. The naturalism that he dismisses (Henry James, Rider Haggard, Robert Elsmere, Guy de Maupassant, etc.) is no longer being produced. Perhaps we've seen as many movies of trees as we have trees themselves. And so, why do we still make these distinctions?
When Jack Smith ruminates on Maria Montez in his constitutional congress of Camp, the writing is drenched with nostalgia to the point of coming apart completely. Periods slip from the end of sentences, muddy emotional recall clogs the syntax. This writing is sincere and failed. Meanwhile, today's liberal elite recalls with pride and some loss, the stones they threw in protest a generation ago, when idealism could be validated. Now, we unfortunates of our generation are constantly being sent to that haunted Principal's Office, the 80's. We respond to Sontag and Brecht with the soap operas and Academy Award acclaim of our boyhoods. When we've talked through this issue over coffee or drinks, our ruminations have led us to the B-52's, Pee-Wee Herman, Grace Jones as a Slave to the Rhythm. Few things are Campier than one's first tastes. Jack Smith loved Maria Montez for being"moldy."
Nostalgia motivates Camp in all of its dilapidation. Irony insists that while dead is dead, our naïve, formative sentiments must rise rotten as child-zombies to fulfill our adult sensibilities. Could Stonewall have happened on any day other than that of Judy Garland's funeral?
Camp is associated with homosexuality because it originates in the urban(e) Sodomite consciousness, emanating from that glowing purple ghost of the past."I've always loved the past"ruminates Victoria Winters, governess of the haunted house inDark Shadows. Mme. Sontag traces the Camp sensibility development to the violet laboratory of secret apartments and bars in New York via Hollywood. The affinity is explained this way:"Obviously, its metaphor of life as theater is peculiarly suited as a justification and projection of a certain aspect of the situation of homosexuals."The closet, then, was performative, like a 99-seat black box theater. Can that theatrical metaphor be sustained when camouflage is no longer necessary for survival? Sort of, although now it would seem that Camp is not an exclusively gay domain, and everyone is aware of his performativity.
The 80's could have been Camp's last cynical stand. Is it possible that Blake Carrington mentioned AIDS in public before Reagan did?
Since then, Camp, as a trope of queerness, has moved along with the gay reflection from a secret code of revelry to a tool for public empowerment and agency. Now that those Supreme Court drag-queens are keeping an eye on same-sex marriage, and an Angels-in-America-on-HBO worldview incorporates Camp's ruin into a gay-positive sense of normalcy; with pride parades rather than riots, prime-time situation-comedy rather than midnight self-loathing, AIDS now resulting in bigger muscles than ever, queerness is no longer Campy. Gay again means happy.
As Sontag observed:"Homosexuals have pinned their integration into society on promoting the aesthetic sense."Who knew such a strategy would work so well?
Campiness, however, can still be located in certain shades of nuance. Nuance allows audiences who are looking to see. This is how we recognize the Alienation Effect–that batted eyelash or blank stare that says,"I know what I am doing is wrong."Nuance will always leave doubt. This is why our President famously detests it: nuance enables critique. Critique is a matter of intelligence, or the"hardening of sensibilities into ideas,"as Sontag points out. In a contradictory and astounded manner, she introduces her investigation from behind the disclaimer that to talk about Camp constitutes a betrayal of the very notion.
There have been moments in which fleeting feathers of Camp encouraged political agency via an exposéscandaleuse, an unaccountable discrepancy, an elucidating mockery. These moments too are contradictory. And these moments are gone.
Camp is so dead. Its ghost whispers can be heard beyond the creaking stairs leading to the attic.
Camp instructs us, sotto voce, in the way to embrace self-consciousness and artifice as the tools of performance, to be used in telling the Truth in every way available, and not something to be concealed in the illusion of nature, reality, tromp-l'oeuil and trompe-brain trickery that has blinded the people for so long.