WASN'T THERE A PARTY AT FRANK ZAPPA'S OLD HOUSE LAST NIGHT?
Mark Rodriguez

Awhile back I had a decision to make. It was a Saturday night in Los Angeles. I had a couple of options; one was to go to a party in Laurel Canyon where an enormous dream catcher had just been constructed. So enormous was this dream catcher that the Guinness Book people had come sometime the preceding week to take measurements. As the story goes, this bright cheery intriguing and delightful author opted for an easy night of whisky-gingers at a bar closer to home.

The next day, visions of huge dream catchers danced in my head. I wondered why anyone would make a big dream catcher in an urban area such as Los Angeles. Then I thought about the locale, and suddenly it all made sense. Recently Laurel Canyon has been home to an influx of new occupants, some of who are trying to imitate their musical progenitors by inhabiting the old houses. Laurel Canyon was considered a great place to be in the latter half of the 1960s through the 1970s. This was before things went downhill with events like the Wonderland murders and other such atrocities (drug casualties, commune over-saturation, etc.) spawned from the dark side of the Cultural Revolution's wistful utopian dreams.[1] Perhaps the current residents are trying to suck some ghosts? Within this context it made sense then that these new inhabitants would try to possess the spirit of the place with a tool that the previous generation used to catch their psychic ghosts.

I concludthat this ginormous dream catcher reeks of an observed phenomenon (why itals?) that has appeared in the latter part of the first decade of the 21st century which I refer to as "Super-Nostalgia. This phenomenon is destroying our culture's ability to find its own voice. It's destroying our ability to find our needs and desires.

Super-Nostalgia is an obsession with the aesthetic and cultural products from nearly every decade of the 20th century, particularly from the 1960s and 1980s. For the sake of time a brief and incomplete analysis of previous generation's nostalgia is necessary. What can be ascertained from the cultural residue of the 1960s through multimedia is that the youth culture of that time relied heavily on the 1920s/30s parlor culture style, and sentiment from the cowboys and Gold Rush prospectors . [2] Cowboys turned greasers when the 1970s waxed nostalgic for the '50s. It seems that the 1980s had their own thing going, but nostalgia returned in the '90s with the reemergence of bellbottoms and other 1970's cultural flair in the aesthetics of dance music, as in Deee-Lite's "Groove Is in the Heart" music video (YouTube it, dude). [3]

There are many reasons for the presence of Super-Nostalgia. The usual suspect, television, has gone all hyper and meta with shows like Best Week Ever and Talk Soup; self-referential programs that ingest and make fun of the week's goings-on in TV. Then there are washed up celebrities who do reality shows. Its as though it is easier to trust old celebrities then to look for new talent.
Television isn't the only culprit. Movies have become more and more dependent on remakes of old movies, or as a result of some weird sense of impending doom old television shows.[4] And lets not forget that we live in the age of the Internet, everyone's multimedia is located in a global archive that will puzzle alien life forms for years. To add insult to injury, whenever I listen to an oldies radio station I can't tell if they are going to play hits from the 50s, 60s, 70s, 80s, or 90s. But I know that when I was a kid oldies meant the '50s and early '60s. Although new media bears some responsibility for our culture's nostalgic tendencies, its worth assuming that the fact that we live in a culture obsessed with preservation also contributes to this epidemic.
Preserving is an important aspect of this global culture that strangely helps to manifest it's nature. The natural inclination to preserve is the result of an almost 200 year tradition of showing collections to people in museums. Now this is repeated and multiplied by the public through blogs, incessant digital camera use and YouTube.[5] Nostalgia now cannot help but become second nature.
There was no way of ever knowing that this continued exhibiting of a culture's previous culture would queue up such a stumbling block, one that closely resembles a broken record, with the world made of wax and the global population playing the part of the skipping needle.
At this time I would like to point the reader to the Living Museum, a poignant and key player in the passing of the nostalgia torch.]
The Living Museum, although derived from European Open Air Museum practice (begun in 1881), was mostly a result of the ever-astounding genius and underhand deviousness of Henry Ford, who in 1928 created Greenfield Village in Dearborn, Michigan. Greenfield presented historical buildings outside, but unlike the Open Air Museum, hired actors who dressed in historical garb and performed the making of period crafts and everyday work alongside the built/preserved environment. Although it is generally associated with a colonial time period, the Living Museum has ventured out of the confines of an institutional structure. And with the present super-nostalgia, it has jumped the fence into all facets of today's culture.
A clear example of the Living Museum's subversive immersion into the world outside institutional confines is Devendra Banhart, a musician who is responsible for the creation and proliferation of a musical style called "Freak Folk". Banhart looks like a musician performing sometime between the late 60s and early 70s. His musical style conjures up images of Marc Bolan[6], Townes Van Zandt, and Vashti Bunyan[7]. Although pleasant, there is no doubt that he is inhaling ghosts. What I really need to say is his super-nostalgia is so monumental that he cannot help but blindly participate in the new Living Museum phenomena. As the reader can see in [Fig 1 and 2] there is no difference between a Devendra Banhart performance and a reenactment of the American Civil War's Battle of Antietam. The old war in Banhart's case is that of a cultural revolution spun many years ago.

Banhart is an important musician. He is well liked and incredibly influential, having released 6 albums in 5 years and packs venues across the international landscape. There is no way to tell how he will shape the future generations . It is funny though to think of how someone from the 1st decade of the 21st century has borrowed most of his music from a mass of people 40 years his prior, and that musicians in 2040 instead of nodding to the 60s and 70s might play music influenced by Banhart because there tolerance, or ability, to grasp what was going on 80 years ago will be minimal. What does that say about contemporary culture, when the newest thing is influenced by a diluted representation, if not a formal mimicry of something that happened 40 years earlier? What is it that makes super nostalgia so appealing?
Super-nostalgia is an idolization of cultural revolutions of the past. I think what is most attractive about it is its calling to present of a possible revolution. Nostalgia implies that there is a lust towards, or an interest in, imitating the modes in which one generation achieved revolution, whether thru speech, music, images, states of mind, etc.

If we observe our own (?) obsession with the 1960s, 1970s and 1980s then it's not hard to see this revolutionary lust gleam apparent. With the 1960s our contemporary culture grabs music styles, sartorial choices, the aesthetic of underground periodicals, the hope for some alternative to capitalist hell, as well as experiments with independent schooling. The 1980s are milked for their revolutionary approach towards fashion, new wave sound and excess. Nostalgia lures with the hope of a revolution of some kind. However, does it create an actual paradigm shift? We continually strive for an alteration in the cultural make-up of the human race, yet it is hard for these changes to occur when we are trying so adequately to adhere to one time-period's methods while interacting with a situation born of another era. To the skipping record we go again and again.
It is hard not to see the bleakness of the situation. To escape this hopelessness one must look to the brighter side of things – to something more pure, more humble- to squeeze the juice from it and expand upon its essence as it remains still new. There are glimmers of hope on the non-nostalgic horizon – signs that we are progressing in our culture instead of depending on the past to consult for guidance. America is built on progress, and progress as a tradition leaves no concrete structures to base our culture off of save the pursuit and gain from all things new and novel.
One such article is a typology of architecture I call Bill Cosby's sweater [fig 3 and 4]. This style of building is found generally in urban areas being revamped and prepared for gentrification. Some examples of this architecture are found in the Emeryville area of Oakland, California and near downtown Los Angeles (also check out Popeye rocking a Bill Cosby's Sweater in [fig 5].) These buildings represent a kind of reverse suburbia (urburbia), in that they are cheap affordable housing that comes in blocks of endless repetitions, like the suburbs., Only they are planted in a city center. Although this is a new phenomena my choice of terminology is derived from a nostalgic figure from 80s television, the time of my childhood .Perhaps its just a natural tendency?
Bill Cosby's Sweater is a sick and twisted architectural entity. It borders on ugly. Actually I take that back – it's kind of neat because it is pure. It remains virtually independent from ties to the past, at least I hope it does. I am sure you could find some history somewhere; there are some post-modern angles and some detritus from Robert Venturi and Denise Scott Brown. Overall though I think it is a thing of its own, on its own.
We must learn from this cultural construction, to help us move mountains beyond our human capabilities.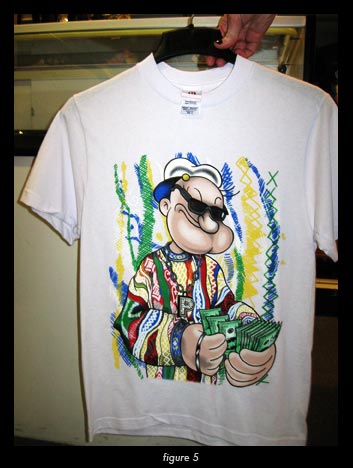 The funny thing about Bill Cosby's Sweater is that no one recognizes it as something new, just ugly. However a lot of the things that we wax nostalgic about were ugly to the generations who first witnessed them. Hipsters, Hippies, yuppies, beats, ravers, punks, goths and their ilk have always been looked at with an eye of romantic disdain from the dominating conservatives of a given time-period. Hippies were seen as a nuisance in most senses, as were punks and ravers. Over time these subcultures were viewed with nostalgic yearning, as their potency shifted from being the survival tactic of a select group to becoming fodder for mass-marketing campaigns. Bill Cosby's Sweater has already slipped into the passive collective consciousness. Perhaps it will reappear in a couple of decades as a demand from another generation's hopeful lusting nostalgia.
It is precisely because of this latency that you should be embracing Bill Cosby's Sweater now in order to suckle the nectar of purity from its saturated breast, if only to help create a better genuine future.
Mark Rodriguez
Mark A. Rodriguez is a professional artist that makes professional art for professional people. He directs The Youngest Professionals (www.youngestprofessionals.org), and is co-owner of The Lesbian Grocery Store. Other professional interests include: archiving, pedagogy, and playgrounds.