OTHER OPTIONS: A closer Look at FOOD
By Ben Schaafsma
I am a member of the Institute for Community Understanding Between Art and The Everyday (InCUBATE) in Chicago. It is our primary focus to find new possibilities for funding and supporting cultural production that exists outside the heavily binary system of "public" support and private sponsorship. By researching ways that artists have incorporated models of resource allocation, community building, funding structures and forms of exchange as part of their artistic practice, both historically and contemporaneously, we hope to build a vocabulary of approaches for supporting artists' practices directly.
The impetus for the formation of InCUBATE came out of a direct captivation with methods being developed by cultural policy makers, artists and business people in countries such as Latvia and Hungary after a trip to Eastern Europe in the winter of 2007. Countries that once relied on the state to fund cultural production are now developing new ways of funding culture and in particular private-public partnerships since joining the European Union. We began to imagine what it would look like to transpose these approaches on our own situation in the US. As young arts administrators interested in supporting critical art practices, affecting official cultural policy in the United States via traditional channels seemed a bit lofty and, with a growing understanding of the state and direction of public and private funding, completely uninteresting. Is it possible to create new contexts for public support by looking towards the periphery of neoliberal economics, by operating in the folds of established institutions?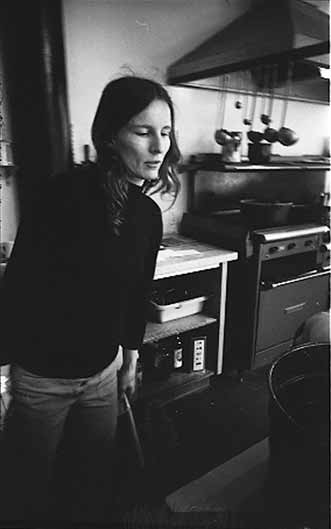 Carol Goodden in Food's Kitchen. Courtesy Carol Goodden,
photographer unknown.
Our interest in the possibility of alternative funding models and support structures, and the urge to share and formalize what we learned during this process, culminated in an exhibition and research project, called OTHER OPTIONS.
OTHER OPTIONS is a traveling and evolving exhibition, which features artists' projects concerned with the re-interpretation, alteration and creation of infrastructures that affect their everyday lives, and their artistic production. The motivation for this project began after our assessment of the current conditions of formalized support for cultural production in the United States. The research revealed a heavily binary system of public versus private support. Although the model of a nonprofit 501(c)3 corporation has traditionally been considered an appropriate mode of support, a number of flaws and contradictions are becoming apparent in the way that these organizations are made to function within society, both individually and as a collective "Nonprofit Industrial Complex."(1) In an attempt to explore the nature of such flaws and contradictions in the nonprofit system, OTHER OPTIONS asks the question: How does the current matrix of specific regulations and compliances to which nonprofit organizations are forced to adhere, affect the creative output, imagination, and flexibility of such organizations?
In 1995, Alberta Arthur, then director of the Rockefeller Foundation's art and humanities division, pointed out in a report to the President's Committee on Art and Humanities that, "private foundations, corporate and family foundations do their funding by guidelines and goals which are special to their interests and institutional purposes; they fund to advance their corporate ideas."(2) How can actual arts administrators working within arts institutions advance new ideas and practices when they are limited by the inclinations of family foundations and "corporate interests"? Michael Brenson, a contemporary art critic and curator, points out, "It is important to keep in mind that there is no model for private support in the United States that indicates that it, by itself, could meet the demands of this or any future artistic movement." He continues, "the market system ignored exceptional artists earlier in the century, including many African-Americans, and it still gives little support to many exceptional artists, particularly those who prefer to work outside galleries and museums."(3)

It is for this reason, as administers of art and culture, that we hope to build a vocabulary of imaginative approaches for supporting cultural production. By collectively assembling methods and practices that aim to integrate ideas of support into cultural and artistic practices, possibilities for a more participatory arts administration arise.
How then do organizations and artists interested in social and political change move forward? Is an oppositional or autonomous approach the only solution? What can be salvaged from the current state of non-profit organizations? How can artists offer fresh perspectives on administrative and organizational approaches? What are other options?
In an attempt to understand what lead groups historically to forego traditional models for arts organizations and turn toward collective and self-organized strategies, I have investigated several historical artistic projects, with an emphasis on experimenting with new possibilities for public involvement in supporting cultural production. I think it is important to understand the way these funding practices are linked to the social, political and economic climates from which they arise. One project I looked at was Carol Goodden, Gordon Matta-Clark and others SoHo NY based Food project from the early 1970's.
Following the formation of cooperatively run 112 Workshop/112 Greene Street, which later was renamed to White Columns, now New York's oldest alternative art space, FOOD was run by artists for artists. In an interview in Avalanche magazine from 1971 with Jeffery Lew, founder of 112 Greene St., Alan Saret, gives us insight as to what was going on in SoHo during this time, "I think artists are really un-together [sic.] as a group, but very together as individuals. The things which make you an artist can make you a revolutionary, can make you change your own environment." FOOD was a result of artists wanting to change their environment and, counter to Lew's assumption, working together. Goodden, Matta-Clark and others worked to create cohesion within their community and infrastructure to support it. FOOD is also an administrative attempt to create an autonomous support structure for working artists. The word autonomous is used here to articulate separateness from an institutionalized art world. By looking more closely at FOOD, my goal is to identify and consider ways in which support structures can develop and exist apart from formalized cultural institutions and the corporations that support them.
Goodden's inheritance and Gordon's charisma allowed the two to develop a solid plan for a cooperatively run restaurant with the primary goals of getting the dinner parties out of Goodden's home, providing a socially engaging public meeting place and eatery, and providing jobs for artists with minimal demands, good pay and flexibility. "I was intending to relieve myself and nourish the community in the form of comestibles and finances."(4) Meanwhile, Goodden was curating a staff of artist-chefs with unique palettes andin need of a steady paycheck. An early staff roster boasted dancer Barbara Dilley Lloyd as salad chef, musician Robert Prado as lunch chef, musician Richard Peck as dishwasher, and Gordon Matta-Clark as internal architect and participant of the legendary Sunday night guest-chef dinners.(5) Just months after a dinner party conversation, Goodden, Matta-Clark, Tina Girouard and Dick Landry began pulling away at the building on Prince and Wooster.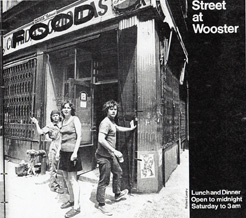 Tina Girouard, Carol Goodden, Gordon Matta-Clark in front of Food
opening the door to start construction. Courtesy Carol Goodden, photographer
unknown, believed to be Richard Landry.

Goodden recalls, "I knew that artists had a hard time with "jobs" because of the required schedules. Some even lost their jobs if they chose to leave for a week in order to mount and attend a show that they had been invited to, which was important, needless to say to their very survival as an artist."

Goodden's aspiration to provide an alternative means of support for artists that was both empathetic to their unconventional lifestyles and obligations and was based on a system of reciprocity rather than generosity. The ideological framework for FOOD as a means of support had the potential to shift the field of power relationships that often predetermined and perpetuated certain modes of artistic production. As Pierre Bourdieu notes, "the field of cultural production is the site of struggles in which what is at stake is the power to impose the dominant definition of the writer and therefore delimit the population of those entitled to take part in the struggle to define the writer."(6)

In regards to SoHo in the late 1960s and early 1970s, there appears to be a forced shift, or reclamation, of possibilities in terms of who holds the authority to legitimize an individual as an artist. FOOD acts as a testament to this observation, by creating the possibility for an artist to be both financially supported and legitimized as an artist by a community that exists outside of the commercial, academic or institutionalized art worlds. As Bourdieu points out, it is because of the permeable frontiers and porous borders of the field of cultural production, as opposed to the economic or educational fields, which allows for such shifts to happen. By slightly lessening artists' economic dependence on the Midtown gallery and university systems, FOOD created a new level of both economic and imaginative autonomy, as well as attempted to create a horizontal value structure, which differed from hierarchical structure of the established art world.

FOOD not only provided financial and comestible support, but it created a social network with meaningful relationships and opportunities to think and work outside the institutional framework of the art world. It allowed Richard Peck and other members of the Phillip Glass Ensemble to be inspired by the sounds from washing dishes, provided money and time to produce their work and a social space to meet artists, dancers and other collaborators. FOOD was a place where Matta-Clark could continue realizing projects that bordered between art, life and play and, most importantly, a place where Goodden and others created a much needed support structure that inspired future generations to consider making spaces for their work outside galleries, museums and the institutional paradigm.
FOOD serves as an example of a way of organizing support structures via participation and inner-connectedness. Historically, artistic and cultural production in the US has been supported by wealthy individuals, private foundations, non-profit organizations, and corporate sponsorship. Funding structures need to change to more horizontal structures. FOOD and the projects presented in the OTHER OPTIONS exhibition, illustrate these support systems relying on self-organization, participation, and imagination.
For more information about the artists in the OTHER OPTIONS exhibition visit: http://www.incubate-chicago.org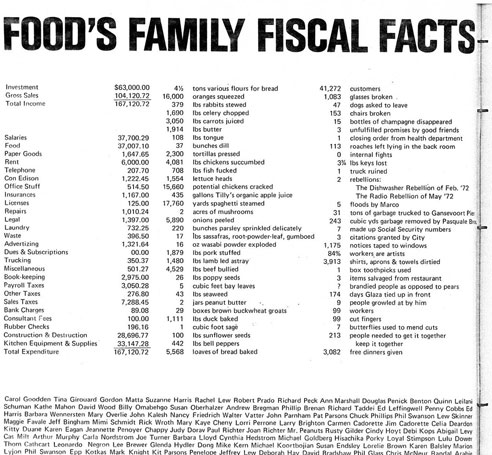 Text of Food's Fiscal Facts from Avalanche Magazine. C 1972.
Courtesy Carol Goodden

1. In the introduction to The Revolution will not be Funded: Beyond the Non-Profit Industrial Complex, collaboratively written and edited by INCITE! Women of Color Against Violence, Andrea Smith points out many of the complexities concerning non-profit organizations in their tendency to perpetuate stasis, absorb resistance or change, and promote the interests of a wealthy contingent through the funding of family foundations and corporate donors. Though INCITES!'s text primarily focuses on organizations with visions of social justice, their critique of available funding models shares many of our concerns and with the current climate of funding for the arts in the U.S.

2. Alberta Arthurs, "Taking Art Seriously," American Art 10, no. 3 (1996), 2-7.

3. Michael Brenson, "Washington's Stake in the Arts." (New York Times, April 1998), sec. Arts.

4. Goodden, interview with Ben Schaafsma, January 14, 2008.

5. Accounts of various guest chef dinners can be read in Lori Waxman's "The Banquet Years: FOOD, a Soho restaurant in the 1970s": http://as-ap.org/waxman/resources.cfm

6. Bourdieu, Pierre . The Field of Cultural Production. (New York: Columbia University Press, 1993), 42.