Appendix #7 SOS, 2002. The Society for Orgonotic Streaming.
SOS - the Society for Orgonotic Streaming was offering treatments to LAPD officers in the summer of 2002. Service was available with an appointment or at our mobile plain-air therapeutic center. We arranged visits to the Revolver Club at the Police Academy, at the Municipal Court Downtown Los Angeles and at a restaurant where LAPD officers frequent during breaks.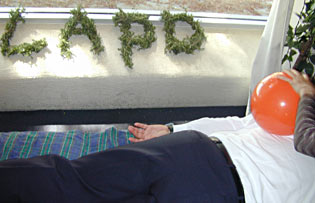 Our strategy consisted of aesthetic juxtaposition between relatively free-flowing energy and the squared-up institution of law enforcement by creating an on-site not-for-profit, non-judgmental (open-minded) atmosphere of nonprofessional sensual pleasure, playfulness and trust.
SOS was a collective experiment in non-hierarchical, tissue- and energy-based means of communication as a way to open up leaps in armored body units.
Using hands-on approaches such as massage, washing, and pedicure, as well as conversation, games, experimental therapeutic devices, healthy snacks within the law enforcement institution itself, SOS sought to examine the possibility of temporarily demilitarizing the law enforcement body by intro-ducing fluxes of non-paranoiac divergence directly into its circulatory system.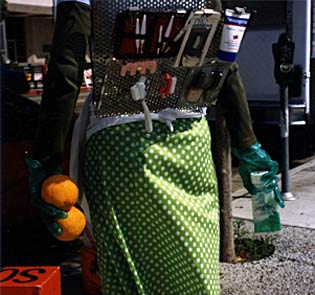 Uniform bodies colonized by hierarchical patterns of fear and aggression.
Imagine for a moment that we are anthropologists, who on their research in ajungle stumble upon a tribe. The initial contact is unsuccessful. Both parties are prejudiced towards the other.
It was also hoped, yet never verified because of the short life of the group, that this breach, on the individual level, when connected with time and greater familiarity, might give way to the liberation of non-institutional life-affirming desires imprisoned within the margins of the law enforcement body because of their inability to reconcile with its demand for "phallic narcissistic" formations of power benefiting its antisocial directives. Too often, these desires appear to be forced into self-destructive impulses exercised by the individual officers upon themselves, only to emerge unwittingly displaced and recklessly exacted upon others.
The body in pieces allowed to illegally flow to the floor.
The analysis tells us that communication seems to be impossible as long as we see only what we expect. However, the rigid thought patterns that both parties hold about the other will not live past the moment of true contact. To communicate is to speak and to listen. This is to exchange identities. In a democracy we must all dare to expose ourselves to the power of communication. Fascism lurks in every dogmatic "I" and in every fundamental "You".