The Journal Press is our publishing Imprint. We publish our own books and invite authors and artists to collaborate with us in printing and/or working to distribute your projects.
Click on Titles for more info

Journals

Issue 8 JoA&P 2011/2012

$20
Issue 7 JoA&P 2010
Mortgaged Lives
Ada Colau and Adrià Alemany
- Michelle Teran English Translation


A Museum of Reclaimed Urban Space opening —
a moment's Catalog: december 8, 2012

Ben Shepard -editor
Emily Larned - designer
more info

The Architecture of Mineralization
Etienne Turpin- author
A Guidebook of Alternative Nows
Amber Hickey Editor.
sold out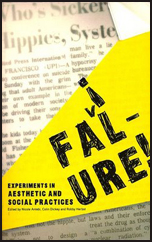 An Atlas of Radical Cartography
Lex Bhagat and Lize Mogel- editors

sold out

In the Middle of the Whirlwind
Team Colors- editors
Read online

Failure!
Nicole Antebi, Colin Dickey,
Robby Herbst- editors

sold out




Zines


Fasion 2012 Volume 1 Fasion 2012 Volume 2
Marc Herbst Marc Herbst w/essay by Gavin Grindon
Order Order
Preview Read Gavin's Essay


S